Just the Tip Complete System and replacement parts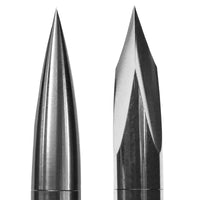 Changing the game
Our slip-tip system is precision cut from hardened, highly corrosion resistant stainless steel and offers several unique features such as replaceable / interchangeable tips, hollow ground edges on the tri-cut tip and the unique bullet point tip. We also include slide rings for three different size shafts making the complete set universal and value packed.
Never again hesitate to take a shot out of fear that you'll destroy a $100+ tip by blasting it into the reef. Would you even think twice if you could easily replace "just the tip" when you got back to the boat at a cost of a few bucks?
It's important to note that we don't believe we just invented the wheel. We've been using Alexander and Mori tips for many years and this product is an extension of their innovation, they are the true pioneers and we owe great homage to them.